Three Key Words of Tablets' Living or Death in 2015
2015-01-10
In the past year 2014, tablets has faced with development crises. Even iPad, the famous authoritative enterprise in tablet industry, has reduced its shipments. Some people even say that the tablet industry is dying. There are many people considered that there is no need to feel pessimistic about the current situation. Timothy D Cook, the CEO of Apple, has demonstrated his disagreement about the argument of tablet market has been overly saturated. However, it cannot be denied that tablets will face with more serious challenge in 2015. How will tablets deal with these challenges? Maybe CES will inspire us. Let's make some forecasts!

Keywords: 64bit and Octacore-- ARM's processor has been improved again.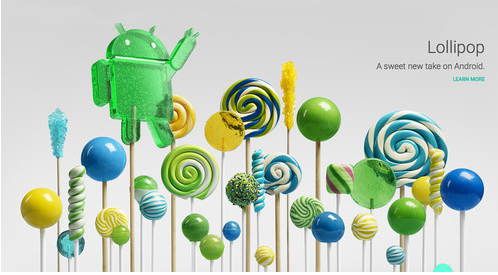 The release of Android 5.0 Lollipop operating system has not only make the UI more aesthetic but also fully support 64bit operating. Android 5.0 is the android version that has changed the most since android has been published. It means that Cortex-A50 series of ARM and Android L system make a perfect match. In this year, besides the huge mobile market, tablets will come with 64bit processor chip as well. New chips recently published by Qualcomm, MTK and other companies in first half of 2015. Most of these chips have adopted 64bit Octacore or 64bit Quadcore solutions, and mainly target on mobile and tablet market. Compared with mobile products, flagship tablets will make 64bit processor their first choice. Most of software and App are able to support 64bit processor. The year 2015 will be a 64bit time for tablets.
Just like Qualcomm and MTK has made their high-end tablets' chips and solutions 64bit, if nothing unexpected happens, Rockchip's 64bit processor RK3368 will be officially launched a 2015 CES. With the 28nm process, RK3368 adopts Cortex-A53 Quadcore. The operating frequency of RK3368 is 1.5GHz. RK3368 could not only operate with full-speed under high load situation but also lower the frequency and turn into low power consumption mode under low load situation.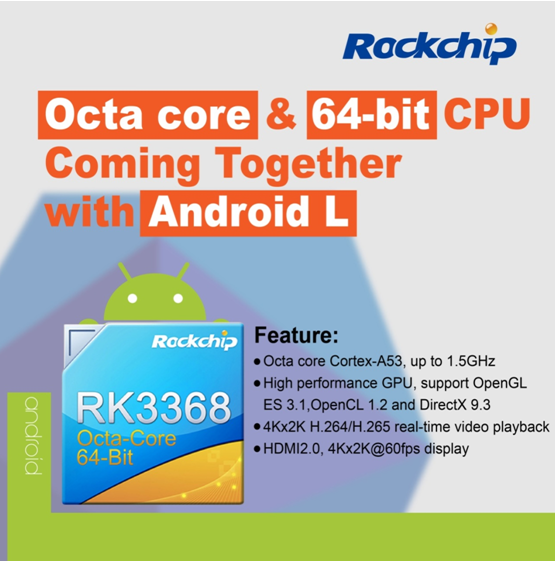 Cortex-A53 is Arm's processor with the most high performance, and it is said that it could provide a phone with three times performance of current top-level smart phone. The most remarkable of RK3368 is that it supports 64bit operations, which could double the processor data stream's width. Cortex-A53 could also support larger internal storage, which could provide with higher efficiency when processing large-scale data. Except that, 64bit processor has another advantage in controlling internal storage. We all know that the maximized addressing space of present 32bit processor is 4GB, making it difficult to run large-scale data handlers which need large memory. However, 64bit processor RK3368 could support larger memory and thoroughly solve the bottleneck problem which ARM processor has met with 32bit operating system.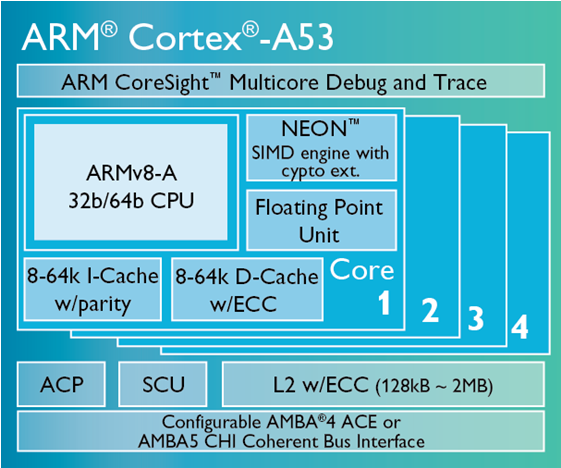 Key words: large screen--2560*1600 high resolution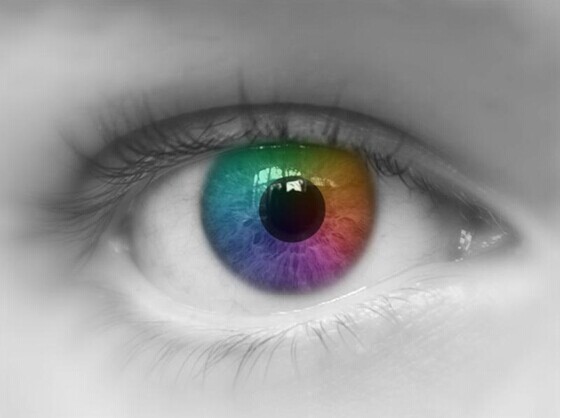 We all know that tablets have faced with development crisis in 2014, especially small size tablets under 8 inches. Even iPad mini series of small size tablets has been questioned after the launching of iPhone 6 Plus which owns a screen of 5.5 inches. It could also reflected by the fact of the booking amount of the latest iPad mini 3 is strongly less than that of iPad Air 2.
Different with small size tablets, the market of large size tablets are regarded as promising by the industry. According to the report of market research firm DIGITIMES Research, the proportion of tablets with screens larger than 10 inches has been improved successive in the fourth quarter. NPD DisplaySearch also predicted that, the sales volume of tablets with screens between 7 to 7.9 inches will be occupied by smart phones, and their market share will fall from 55% to 35% till 2018. Unlike that of small size tablets, the market share tablets with screens larger than 11 inches will increase from 2% to 14% till 2018. Large size tablets have begun to appear at present, such as the 12 inches tablet Microsoft's Surface Pro 3. People say that Apple will launch an iPad with the size of 12.9 inches.
On the premise of adopting bigger screens, tablets' resolution become higher. It is said that the high resolution of 2560*1600 is expected to be tablets' mainstream display standard. In fact, at the end of 2014, resolution of tablet has been moving in the direction of super HD.
It is estimated that large amount of tablets adopted screens of 2560*1600 resolution will be launched and come to the market.
Nonetheless, both big screen and 2560*1600 resolution need the support of a strong GPU. Thus, the improvement of graphics performance will be an important part of this year's ARM processor. For instance, Qualcomm Snapdragon 810 has adopted the strong graphic Adreon 430, and meanwhile, Rockchip's RK3288 which adopted Mali T764 has been mass produced. As Rockchip's star product in 2014, RK3288 has adopted ARM's strongest GPU Mali T764, and it can support 2K screen easily. RK3288 has 8 shader cores, and its performance is up to 82 GFLOPS、2400M pixel/s. RK3288 is counted as the top removable GPU at present.
In 2015, Rockchip's stronger processor RK3688 will pick up the baton from RK3288 and continue to lead this year's domestic tablet development.
Key words: H.265 decode/ H.265 output--perfectly combined with 4K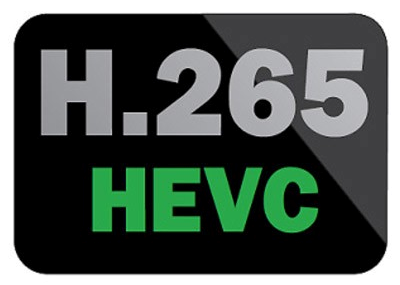 Though H.265 decode and 4K are nothing new at present, however, it's not that easy to combine these two technologies together to implement output, especially on tablets and boxes. There were several ARM professors claimed to be able to support H.265 videos, but their output images are mostly 720p, not real 4K. Combine H.265 hare decode and 4K output will be the direction of working for ARM chip manufacturers. In this respect, Rockchip has been ahead of other manufacturers.
RK3368 first appeared at CES2015, and it has become the Rockchip's second product which support 4Kx2K real-time hard decoding. It can really implement 4K video output. On account of having RK3288 as foreshadowing, the appearance of RK3368 will further accelerate the popularization of tablets and intelligent devices supporting H.265/4K.
At this year's show, Rockchip has showed its new "WMD"—H.265 transcoder technology. It could transcode multichannel HD videos in real-time, and transcode different formats of input videos to H.265 type to get output. Besides flagship chips and solutions like RK3368 and RK3288, Rockchip will embed this technology in all chips.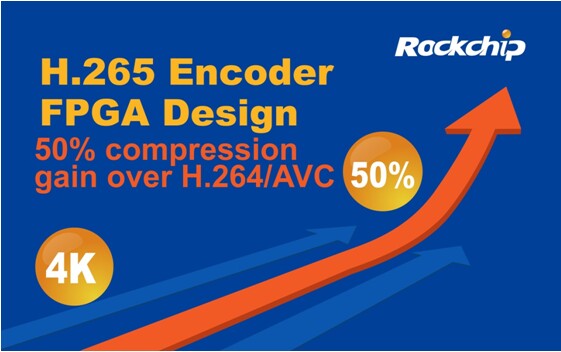 Other than the above three development tendency, tablets will introduce some attractive configuration, for instance, both Sumsang Galaxy Tab S and iPad Air 2 have adopted fingerprint recognition function, and Dell Venue 8 7000 has been equipped with 3D camera. Nevertheless, these are not subversive configurations, and more new elements are expected.
In the end, should we go into the wearable device market or stay in the tablet market? We cannot tell which is the right direction, and there is no exact answer right now. At least at this point, tablets' format war will be bound to continue this year. The trend of high configuration can be the driven result of market requirements.