Rockchip Launches New Tablet SoCs on GLOBALFOUNDRIES' 28nm HK
2013-06-20
RK3188 and RK3168 leverage 28nm technology to achieve GHz performance at ultra-low leakage
Milpitas, Calif., and Fuzhou, China, June 17, 2013 — GLOBALFOUNDRIES and Fuzhou Rockchip Electronics Co., Ltd. today announced that Rockchip's next-generation mobile processors are ramping to production on GLOBALFOUNDRIES' 28nm High-K Metal Gate (HKMG) process technology. Based on a multi-core ARM Cortex-A9 design, the RK3188 and RK3168 chips are optimized for tomorrow's high-performance, low-cost tablets that require long-lasting battery life (see product specifications in annex).
The combination of Rockchip's design and GLOBALFOUNDRIES' 28nm HKMG process technology resulted in a mainstream tablet System-on-Chip (SoC) capable of operating at up to 1.8 GHz performance, while still maintaining the power efficiency expected by mobile device users. The chips began sampling to OEMs in early 2013 and are now ramping to support a wide range of manufacturers.
"Collaborative foundry partnerships are critical for us to differentiate ourselves in the competitive market for mainstream mobile SoCs," said Chen Feng, vice president of Rockchip. "We have chosen GLOBALFOUNDRIES as our strategic source partner of 28nm HKMG because their state-of-the-art 28nm HKMG process has allowed us to ramp our products with very high yields in a relatively short timeframe. This partnership is a true demonstration of GLOBALFOUNDRIES' unique approach to Collaborative Device Manufacturing."
"At GLOBALFOUNDRIES, we are constantly seeking opportunities to offer our customers innovative silicon solutions to help them get the most benefits from their SoC designs," said Mike Noonen, executive vice president of marketing, sales, design and quality at GLOBALFOUNDRIES. "Our partnership with Rockchip is a great example of how early collaboration can result in better performance and power characteristics with reduced time-to-market. We are excited to see Rockchip successfully leveraging this technology on our production-proven HKMG process."
GLOBALFOUNDRIES' 28nm-SLP technology is ideally suited for the next generation of smart mobile devices, enabling designs with faster processing speeds, smaller feature sizes, lower standby power and longer battery life. The technology is based on GLOBALFOUNDRIES' "Gate First" approach to HKMG, which has been in volume production for more than two years. The technology offers a combination of performance, power-efficiency and cost that are ideally suited for the cost-sensitive mainstream mobile market.


ABOUT GLOBALFOUNDRIES
GLOBALFOUNDRIES is the world's first full-service semiconductor foundry with a truly global footprint. Launched in March 2009, the company has quickly achieved scale as the second largest foundry in the world, providing a unique combination of advanced technology and manufacturing to more than 160 customers. With operations in Singapore, Germany and the United States, GLOBALFOUNDRIES is the only foundry that offers the flexibility and security of manufacturing centers spanning three continents. The company's three 300mm fabs and five 200mm fabs provide the full range of process technologies from mainstream to the leading edge. This global manufacturing footprint is supported by major facilities for research, development and design enablement located near hubs of semiconductor activity in the United States, Europe and Asia. GLOBALFOUNDRIES is owned by the Advanced Technology Investment Company (ATIC). For more information, visit
http://www.globalfoundries.com
.
Quad-core Cortex-A9 processor with up to 1.6GHz performance

28nm HKMG process with low leakage and high performance

Quad-core Mali-400 GPU, supporting OpenGL ES 1.1/2.0 and OpenVG 1.1, up to 600Mhz

High performance dedicated 2D processor

Full memory support, including DDR3, DDR3L and LPDDR2

1080P @60fps multi-format video decoder

1080P @30fps video encoding for H.264 and VP8

60bits ECC for MLC NAND, 16bits data widths to improve performance

Support booting from Raw Nand Flash, iNand Flash, SD/MMC Card

Dual Panel display with maximum 2048x1536 resolution

One USB OTG 2.0, one USB Host2.0 interface

High-Speed Inter Chips Interface

Support RMII Ethernet interface

Embedded GPS baseband

Package TFBGA453 19X19mm 0.8 mm ball pitch



RK3168 Ultra low-power Dual-core Mobile Application Processor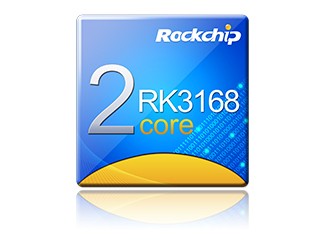 Dual-core Cortex-A9 processor with up to 1.6GHz performance

28nm HKMG process

PowerVR SGX540 GPU, supporting OpenGL ES 1.1/2.0 and OpenVG 1.1

Full Memory support, including DDR3,DDR3L and LPDDR2

High performance dedicated 2D processor

1080P multi-format video decoder

1080P video encoding for H.264 and VP8

60bits ECC for MLC NAND, 16bits data widths to improve performance

Support booting from Raw Nand Flash, iNand Flash, SD/MMC Card

One USB OTG 2.0 and one USB Host2.0 interface

Support RMII Ethernet interface·

Dual panel display with maximum 1920x1080 resolution

Package TFBGA453 19X19mm 0.8mm ball pitch
Pre:Intel Enters into Strategic Agreement with Rockchip to Accelerate, Expand Portfolio of Intel-Based Solutions for Tablets Next:Grand Feast of Tablets